MEDELLIN, COLOMBIA—In the wake of two devastating November hurricanes estimated to have killed over 90 people in Honduras, church-run albergues (shelters) across the Central American country have played a key role in housing thousands of people displaced from their homes. While these shelters provide essential care, health experts from faith-based and secular NGOS alike have warned that cramped living conditions, a lack of protective equipment, and the complete disruption of victims' lives could lead to another wave of COVID-19 in the country, even in those areas far from the epicenter of the hurricane damage.
So far, the country of about 9.5 million people has seen about 17,000 confirmed cases and just over 3,000 deaths this year, about 300 deaths per million people and about a third of the per capita deaths seen in the U.S., according to tracking data from Johns Hopkins University. Then came Hurricane Eta, touching down as a Category 4 hurricane in the first week of November, and about two weeks later the even stronger storm Hurricane Iota, which followed a very similar path across the north of the country and destroyed bridges, roads, and homes. According to the same data from Nov. 21 to Dec. 21, there have been 13,471 new COVID-19 cases and 174 confirmed deaths.
Juan Carlos Arteaga, project coordinator for Médecins Sans Frontières (MSF, also known as Doctors Without Borders) based in Choloma, Honduras, says those confirmed cases were lower than the country's peak in July and August, but higher than the downward trend just before the storms.
"More than 100 COVID triage centers are closed, and in some zones, all of the triage centers were shut down," he told Sojourners, adding that this made getting a real picture of the number of cases more difficult.
"The hurricanes had a direct impact on the health system," he said, adding that because of the disrupted situation, people are "thinking of things other than COVID-19 protection right now."
Thanks to longstanding connections in the community, many faith-based NGOs are stepping up to provide COVID-aware disaster relief. Darrell Caceres, Honduras country manager for Living Water International, a faith-based NGO, told Sojourners both churches and NGOs have the established trust, resources, and logistical prowess to help prevent another wave of COVID-19, in conjunction with local, regional, and national government efforts.
A Snapshot
Roughly 45 percent of Honduras's population is Catholic and roughly another 40 percent are Protestant; churches and faith-based NGOs have had a strong role to play in Honduras even before the pandemic and the storms. A microcosm of the challenges facing the country can be found in the rural municipality of Marcovia, in the country's south — a community of around 18,000 whose most vulnerable people live by the side of the creeks and rivers and which has seen around 120 dead during the course of the pandemic.
Elisa Banegas, a teacher by trade who is now vice-mayor of the Marcovia municipality, said that Living Water has been in Marcovia for two years establishing water wells and supporting other health efforts.
When the pandemic came along, Living Water added the provision of biosecurity and hygiene kits to its efforts, getting them to 500 families (almost 1,900 people) in the municipalities of Marcovia, Choluteca, and Nacome in the south of the country.
"Without the help of NGOs, we would have had to have gone into debt to pay for the services that we were able to provide," she said.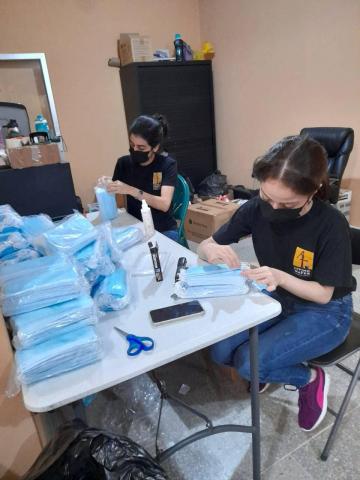 Unity Strategy
Caceres told Sojourners that although churches have been at the heart of disaster relief efforts for many years, especially when Hurricane Mitch devastated the country in 1998, the conditions in the church-run shelters make it challenging to confront COVID-19 at the same time.
"There are more than 20 families in each shelter; it is impossible to socially distance like that," he said.
But Living Water International and many other NGOs have been handing out face masks and antibacterial gel like the ones in Marcovia, using established logistical networks and relationships built on trust. He said thanks to these hygiene kits and that trust, COVID-19 cases didn't seem to be increasing at the rate they'd first feared.
Caceres said because Living Water International had strong, existing relationships with local governments, such as municipal health secretaries, they were in a unique place to provide help when both the pandemic and hurricanes hit.
"This is not the time for politics; this is a time to turn to God," he said, adding that many in Honduras were putting aside deep partisan or religious differences to help during the hurricanes and the pandemic crisis.
"We even have a network between the Catholic and evangelical churches here," he said. "The government knows that we are Catholic and evangelical together in this process with the municipalities."
The Catholic Church is also part of the network of shelters, with Caritas Honduras providing food to 2,500 families, for a total of 12,500 people. Along with increased anti-COVID security measures, they are contributing to the reconstruction of homes.
Local response
It is not just international organizations or big NGOs that are making a difference. In rural areas and small towns across Honduras, local churches are doing their part.
Belisario Oviedo Córdova is the clergyman at the Bautista Maranatha Evangelical Church in Namasigüe in southern Honduras.
"If there is an outbreak of COVID, that worries us a lot, in addition to the hurricanes that greatly affected our nation," he said.
But the church is still stepping up.
"Religious organizaciones have always been on the front lines of a response to disasters," he said. "We have been lending our building as a place for people to stay."
Got something to say about what you're reading? We value your feedback!