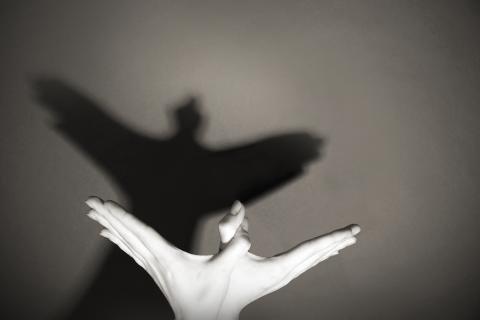 "We wanted to give you a real Indian experience, that's why we're starting 15 minutes late."
The audience laughed as Robin Chaurasi, co-founder of Kranti, welcomed us. I glanced at the girls preparing for their presentation in the corner. There were 13 altogether, young Indian teens, all beaming. Many of them looked bashful, shooting embarrassed looks at Robin as she spoke to the audience. With all the joy and excitement they emoted, it was easy to forget that we were being brought into the lives and stories of daughters of sex workers, some sex workers themselves, from the largest Red Light area in Asia.
Kranti is Hindi for "revolution." Indeed, this extraordinary organization is working to erase the heavy labels that come with being born, raised, and even trafficked in Kamathipura. Laal Batti Express ("Red Light Express") is a three-segment depiction of the girl's delightful and dark stories, of which each performer was asked to add three.
"We call the girls revolutionaries," Robin said.
They performed using sheets of cloth and dark masks to represent loss of innocence, their abusers, and hardship. They shared scenes when an NGO visitor to Kamithipura tore down a girl's career dreams with his demeaning words, and a scene of a corrupt police officer abusing his power so he didn't have to use a condom. Harsh, cruel scenes divide up with dancing, singing, and movement. When the girls made mistakes, they shook their heads and continued on, focused more on being present than trying to entertain us.
"In India, there is a saying," Robin told me. "'A whore's daughter can only be a whore.' There is no belief that these girls are capable or deserving of such a future. With Kranti, we wanted to create a space where we could look at every single girl as an individual, and ask, what are you really passionate about? How do we help you find a passion that is going to be a career?"
One start is through theater.
"The girls have found that theater is one of the most effective means of social change. They have been silenced for so long, so it's empowering for them to get on the stage to tell their own story."
Kranti provides shelter, some education, and social services for the girls in Mumbai, including therapy for them and their mothers. In 2013 they began to incorporate theater as both an artistic outlet and an engaging way to humanize themselves to their audiences, most of whom had never looked a trafficked person in the eye until Kranti took to the stage.
"When I was 10, I learned to ride a bike!" one the girls said at the beginning of a scene. The group all pretended to ride a bike and made bell noises, before she threw a stuffed animal to the next girl.
"When I was 10, I pierced my nose." All the girls yelled, "Ouch!" together.
"When I was 10, I stole a book."
"When I was 10, I was abused. What happened to you when you were 10?"
The girls opened it up to the audience, who responded in turn with broken arms, first airplane rides, and one with their first time on television. The girls ooohed and ahhhed at each response, validating our stories in return.
During the Q & A, a man asked why the young women still labeled themselves as being from a Red Light area. Why not drop the label and its painful memory and negative perceptions? Several of the girls insisted that they were proud of their home, not ashamed. t is the world that needs to change its perceptions of sex workers and their families. The memories were painful, but Kamathipura is still their community.
Many of the girls are already living up to the Kranti goal of being changemakers and advocates. Many have given speeches on sex worker's rights all over India and abroad. Sheetal Jain went from addressing a crowd of 10,000 to attending a drumming school in D.C. Besides being the first girl born to an Indian woman from a Red Light area to study abroad, Shweta Katti was named Newsweek's "25 Under 25 Young Women to Watch" and gave a Tedx talk on her experiences.
The girls exemplified fierceness and the possibility of a changing world within a broken one. How do you change the mindset of entire countries that leave their citizens vulnerable, and then stigmatize their desperate professions? Make a generation of changemakers.
And how can we take action?
We can pray for sex workers.
Pray for the abuse put on their bodies and minds and spirits.
Pray for the discrimination that comes with their work.
Pray for the trafficked, that they would find rest and escape from their bondage.
Pray for Kranti, that their play, Laal Batti Express, will be well received in the cities they preform in.
Pray that they will find stable housing amidst discrimination, and that more young women will find their passions under Kranti's direction, and that others will be blessed by Laal Batti Express before they return to their home community.
Lani Prunés is an Editorial Assistant for Sojourners magazine.
Send Us a Note
Got something to say about what you're reading? We value your feedback!