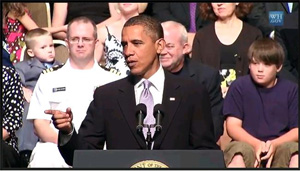 Sometimes the most important things are not at the top of the news cycle -- even the things that ultimately make the most difference in the world. The continuing gush of oil and corporate irresponsibility, primary elections and Washington infighting, tea parties and poll numbers, disrespectful generals and failing wars, soccer matches and the longest tennis match in history all are capturing the week's headlines.
I had a great Father's Day last Sunday with my two boys: 11-year-old Luke and 7-year-old Jack. Despite the mess of the world, I was feeling very happy and blessed all day, just by the opportunity to be their dad. Of all the things I have done, this really is the thing I like the best, and have come to regard as the most important. We started the morning with special homemade cards and gifts, and later in the day raced off to Maryland to play in a baseball tournament, then back to D.C. to catch a matinee performance of The Karate Kid, then off for more baseball in the evening with Luke's travel team families to watch a "Big Train" game at the wonderful Shirley Povich Field where our kids got to watch college players from around the country in a summer league. Being so close to the field made everything seem so fast and exciting, as our kids were mesmerized by the big players they all hope to be someday.
Though it was a long Sunday, Luke and I got up early Monday morning to go hear President Obama's fatherhood speech at a Boys and Girls Club in Southeast Washington. It felt like an honor to be invited and a great opportunity to hear the president, who also loves being a dad, talk about how important he thinks fatherhood is for the country. We expected just to be part of the audience and were surprised to be asked to sit in the front row of the stage right behind the president as he delivered his remarks. (You could tell that placement was unexpected when the television coverage showed both of us in the pictures with Obama, with Luke in his shorts and T-shirt!) But sitting where we were, we really had to pay attention! And I found myself quite moved by the president's words about being a father.
He began by marking the one-year anniversary of the new national conversation on fatherhood and personal responsibility that the White House launched across the country. "Fatherhood" was also one of the key task forces of the Council on Faith-Based and Neighborhood Partnerships that I was privileged to be a part of this last year. Obama said that each forum posed a simple question: "How can we as a nation -- not just the government, but businesses and community groups and concerned citizens -- how can we all come together to help fathers meet their responsibilities to our families and communities?"
He spoke honestly about all the problems caused by the absence of fathers in their children's lives, and spoke personally about his own absent father: "I say all this as someone who grew up without a father in my own life. He left my family when I was two years old. And while I was lucky to have a wonderful mother and loving grandparents who poured everything they had into me and my sister, I still felt the weight of that absence. It's something that leaves a hole in a child's life that no government can fill." Barack Obama's own life experience is a big part of why this issue is so important to him, and why his two little girls are so central in his life.
In a way that both conservatives and liberals should find inspiring, he spoke about the limits of government in such a personal and foundational area of life: "We can talk all we want here in Washington about issues like education and health care and crime; we can build good schools; we can put money into creating good jobs; we can do everything we can to keep our streets safe -- but government can't keep our kids from looking for trouble on those streets. Government can't force a kid to pick up a book or make sure that the homework gets done. Government can't be there day in, day out, to provide discipline and guidance and the love that it takes to raise a child. That's our job as fathers, as mothers, as guardians for our children."
And, as he often does, he spoke about the difference in having a kid and being a father: "The fact is, it's easy to become a father, technically -- any guy can do that. It's hard to live up to the lifelong responsibilities that come with fatherhood. And it's a challenge even in good times, when our families are doing well. It's especially difficult when times are tough, families are straining just to keep everything together."
From our vantage point on the stage, we could see the faces of the dads and moms and kids who filled the auditorium. Their nodding heads, knowing smiles, and hearty applause indicated that they knew exactly what the president was talking about.
Obama zeroed in on the heart of his message for Father's Day: "Here's the key message I think all of us want to send today to fathers all across the country: Our children don't need us to be superheroes. They don't need us to be perfect. They do need us to be present. They need us to show up and give it our best shot, no matter what else is going on in our lives. They need us to show them -- not just with words, but with deeds -- that they, those kids, are always our first priority. Those family meals, afternoons in the park, bedtime stories; the encouragement we give, the questions we answer, the limits we set, the example we set of persistence in the face of difficulty and hardship -- those things add up over time, and they shape a child's character, build their core, teach them to trust in life and to enter into it with confidence and with hope and with determination."
In our politically divided and polarized environment, it was a refreshing word that should cut across all of our political boundaries. As Obama put it, "Too often when we talk about fatherhood and personal responsibility, we talk about it in political terms, in terms of left and right, conservative/liberal, instead of what's right and what's wrong. And when we do that, we've gotten off track. So I think it's time for a new conversation around fatherhood in this country."
Then the president said something that I know he truly believes, and made me feel very grateful that he does. He said, "The work of raising our children is the most important job in this country, and it's all of our responsibilities -- mothers and fathers." The crowd gathered in that recreation center in a tough Washington neighborhood burst into applause, and it was all I could do to not jump to my feet behind him. He went on to say, "Now, I can't legislate fatherhood -- I can't force anybody to love a child. But what we can do is send a clear message to our fathers that there is no excuse for failing to meet their obligations. What we can do is make it easier for fathers who make responsible choices and harder for those who avoid those choices. What we can do is come together and support fathers who are willing to step up and be good partners and parents and providers ... But ultimately, we know that the decision to be a good father -- that's up to us, each of us, as individuals. It's one that men across this country are making every single day -- attending those school assemblies; parent-teacher conferences; coaching soccer, Little League; scrimping and saving, and working that extra shift so that their children can go to college."
I think it is both rare and significant when a political leader gets personal in an authentic way. To admit mistakes and failures -- of our country and of ourselves -- is not something politicians normally do, and this president has been criticized for it. But when he spoke of his own struggles and joys as a parent, every dad who heard him could easily identify. "Even when we give it our best efforts, there will still be plenty of days of struggle and heartache when we don't quite measure up -- talking to the men here now. Even with all the good fortune and support Michelle and I have had in our lives, I've made plenty of mistakes as a parent. I've lost count of all the times when the demands of work have taken me from the duties of fatherhood. And I know I've missed out on moments in my daughters' lives that I'll never get back, and that's a loss that's hard to accept. But I also know the feeling that one author described when she wrote that 'to have a child ... is to decide forever to have your heart go walking around outside your body.'"
I felt myself tear up at that one, and I don't think I have ever heard a better description of what is feels like to be a parent -- to have a child is to have your heart walking around outside your body.
When Obama talked about his own deepest feelings about his girls, he was getting to the hearts of every dad who was listening on that Monday morning: "I'm sure a lot of fathers here know that same memory that I have, of driving home with Michelle and Malia right after she was born, going about 10 miles an hour. Your emotions swinging between unadulterated joy and sheer terror. And I made a pledge that day that I would do everything I could to give my daughter what I never had -- that if I could be anything in life, I would be a good father. And like a lot of the men here, since that time I've found there's nothing else in my life that compares to the pleasures I take in spending time with my girls. Nothing else comes close to the pride I feel in their achievement and the satisfaction I get in watching them grow into strong, confident young women."
I think that Obama's speech about race in Philadelphia will be remembered as one of the most important on that subject in many years. Many remember his soaring rhetoric of change in speeches during the campaign, and the promise of hope in the address he gave in Grant Park the night he was elected. But sitting there, just a few feet from the presidential rostrum, the words that came next seemed to me to be among the most important he will ever speak: "Over the course of my life, I have been an attorney, I've been a professor, I've been a state senator, I've been a U.S. senator -- and I currently am serving as president of the United States. But I can say without hesitation that the most challenging, most fulfilling, most important job I will have during my time on this Earth is to be Sasha and Malia's dad."
And I believe he means that. I believe it in part because that is the way I feel about being Luke and Jack's dad. Of all the things I have ever done, this is the job that now feels like the most important one to me. It's also the greatest privilege and blessing I've ever had.
When he finished, President Obama turned and came to greet the people in the front row on the stage. When he got to us, he shook my son's hand and said, "Hey Luke, it's great to finally meet you. What grade are you in now?" "I'm in the sixth grade," Luke replied as he looked in the eyes of the president of the United States. "That was awesome, Dad," he whispered as the president waived and walked away. "I'm never going to wash this hand." I reminded him, "Remember, that's your pitching hand, Luke." It was a good day, a great speech, and a presidential commitment that could make more difference in this country than most of the other things we talked about for the rest of the day and for the rest of the week.

Jim Wallis is the author of Rediscovering Values: On Wall Street, Main Street, and Your Street -- A Moral Compass for the New Economy, and CEO of Sojourners. He blogs at www.godspolitics.com.
Got something to say about what you're reading? We value your feedback!