Faith and civil rights leaders from across the country gathered in front of the Supreme Court today in support of Charlie Craig and Dave Mullins — the couple at the center of the Masterpiece vs. Colorado Civil Rights Commission case.
The case, heard today by the court, centers around a Colorado bakery called Masterpiece Cakeshop. Citing religious reasons, the owner of Masterpiece Cakeshop, Jack Phillips, refused to create a wedding cake for Craig and Mullins. Phillips and his legal team argue that Philips' religious, expressive, and artistic speech rights give him the ability to refuse making or selling a cake to the couple, according to Slate.
The couple filed a complaint with the Colorado Civil Rights Commission, which then declared that the bakery's action directly violated Colorado's nondiscrimination law. The state appellate court and the ACLU ruled in the couple's favor.
At the hearing today, the court seemed closely divided. Justice Anthony Kennedy, a conservative and a champion of gay rights, will likely make the deciding vote. But Kennedy was critical of an unnamed commissioner's comments from a 2014 hearing against Phillips.
The unnamed commissioner said that "freedom of religion, and religion, has been used to justify all kinds of discrimination throughout history." The commissioner added that freedom of religion "is one of the most despicable pieces of rhetoric that people can use ... to use their religion to hurt others."
Kennedy said that there was "hostility of religion" present in these comments.
"Tolerance is essential in a free society. Tolerance is most meaningful when it's mutual," Kennedy said. But the commission was not "tolerant or respectful" of Phillips, he added.
It remains unclear if this criticism will dictate how Kennedy votes.
In front of the Supreme Court, Sen. Cory Booker (D-N.J.) spoke about the importance of equality and justice in the U.S.
"We cannot be a country that allows discrimination to rear its ugly head," he said. "We cannot be a nation that allows the thin veneer of religion to hide the truth of the bigotry we are still fighting and battling against in this country. We are a nation that must fight."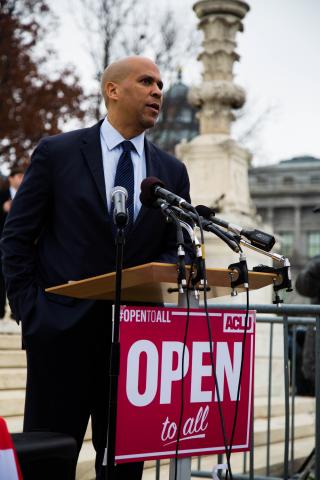 This action in front of the Supreme Court follows a National Weekend of Prayer for LGBTQ Justice where 100 congregations, spanning across 31 states and the District of Columbia, showed their support of LGBTQ rights by dedicating their sermons, services, and prayers for justice for the LGBTQ community last weekend.
Faith leaders speaking out in front of the Supreme Court included Rev. Traci Blackmon, Rev. Jennifer Butler, Rabbi Jason Kimelman-Block, and Rev. Jacqui Lewis.
A final decision of this case is expected by June.
Reuters contributed to this piece.
Got something to say about what you're reading? We value your feedback!