I first noticed there was a problem in November 2013 when I started experiencing dry and cracked skin from washing with the water in Flint, Mich. — water we discovered later was contaminated with high levels of TTHM (Trihalomethanes) and chlorine.
My wife and I live in the Detroit area, but I stay overnight in Flint as many as three nights a week in the parsonage of Quinn Chapel, the oldest African-American church in Flint and in the Genesee County of Michigan, which has been at the forefront of protests and community activism surrounding the ongoing water crisis.
While Michigan Gov. Rick Snyder has admitted that mistakes have been made and takes full responsibility, the residents of Flint to this day have not found remedy. His initial action was to have city fire stations serve as bottled water and water filter distribution points. Michigan National Guard personnel provided water to residents there.
And the nation knows the crisis — high lead levels in children's blood tests and a spike in Legionnaires disease.
If there ever was a silver lining, it has been the outpouring of concern and support from churches and community organizations throughout the country. Bottled and potable water and hygiene items have been pouring into Flint from all parts of the country in amazing capacities. There has been a continuing effort to distribute the water and other items to any residents that need them, no questions asked.
And we're not standing by; we're taking action. Here are just a few of the ways the church is addressing the crisis:
1. Serving as interim chairman for Michigan Faith in Action, I traveled to Washington, D.C., with Rev. Ira Edwards of Damascus Holy Life Baptist Church in Flint, with the assistance of P.I.C.O., to be present for the Congressional Oversight Committee Hearing regarding testimony given surrounding the Flint Water Crisis chaired by Rep. Jason Chaffetz (R-Utah).
2. Michigan Faith in Action and P.I.C.O. began canvassing work, knocking on the doors of residents to determine their needs for drinking water as the crisis continues.
3. Mayor Karen Weaver insists the pipes be replaced. Despite the switch back to the Detroit Water System last October, Michigan is simply relying on the orthophosphate treatment of the existing water pipes to mitigate a reduction in high lead levels in the water. Many residents — and the mayor of Flint — find this unacceptable.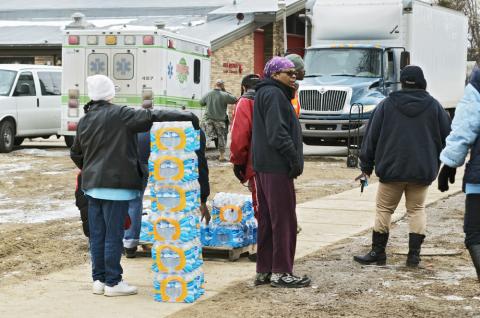 4. Activism turned to protest. Concerned Pastors of Flint joined a Flint Lives Matter March to the Flint Water Treatment Plan to advance the notion: "No Pipes, No Peace." Michigan Faith in Action, along with other community activist organizations, hosted a Flint Speaks community forum at my church, Quinn Chapel, to magnify the outcry of the people and clarify what we are going through.
5. Members of the Environmental Protection Agency came to Flint and committed their support for long-term water testing and to help Flint fix the broken confidence in water quality. EPA Director Regina McCarthy also came and met with key community organizers to commit the agency's resources. There was also a commitment of support by the Congressional Progressive and Congressional Black caucuses during their visit to Flint.
6. Michigan Faith in Action traveled once again to Washington, D.C., to a second Congressional Oversight Hearing. Called to testify were Flint Emergency Manager Darnell Early, who first implemented the order to switch to the Flint River two years ago, Gov. Rick Snyder, and EPA Director McCarthy.
The hearing turned political, as Republican representatives pushed much of the blame for the crisis on the EPA, saying they didn't act quick enough to minimize the damage. Democratic representatives pointed out the fact that Republicans seek to disband the EPA and would have cited the EPA as having had overreach had they stepped in too soon. The political drama continues.
7. In a meeting with FEMA staffers, we explored the possibility of having Flint be declared a disaster area so that sufficient resources could be obtained to solve the immediate problem of providing clean water access to Flint residents. They pointed out that since the Flint crisis was a man-made emergency rather than a natural disaster the city only received the maximum grant for federal emergency aid: $5 million .
8. Surgeon General Vivek Murthy recently paid Flint citizens a visit at a town hall meeting and has dispatched members of his staff to monitor the health issue occurring because of the water. The area community health organizations are actively testing and treating citizens for exposure and have received funding to expand their efforts.
As a man of faith, it is my hope in and prayer to a sovereign, all-knowing and all-powerful God that God's divine intervention will step in and fix this Flint Water Crisis very soon, so that the people living in the most advanced and richest nation on earth can be saved from the effects of being exposed to contaminated water.
Got something to say about what you're reading? We value your feedback!