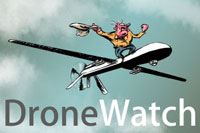 As relations between the U.S. and Pakistan continue to deteriorate, the Obama administration has decided the solution is … more drone attacks.
"Expressing both public and private frustration with Pakistan, the Obama administration has unleashed the CIA to resume an aggressive campaign of drone strikes in Pakistani territory over the last few weeks, approving strikes that might have been vetoed in the past for fear of angering Islamabad."

Seems to me that killing more people in Pakistan is probably not the best way to improve relations.