Christof Heyns, U.N. special rapporteur on extrajudicial, summary or arbitrary executions, urged Washington to clarify the basis under international law of its policy: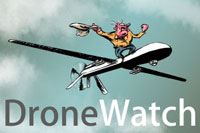 "The (U.S.) government should clarify the procedures in place to ensure that any targeted killing complies with international humanitarian law and human rights and indicate the measures or strategies applied to prevent casualties, as well as the measures in place to provide prompt, thorough, effective and independent public investigation of alleged violations."
The Special Rapporteur again requests the Government to clarify the rules that it considers to cover targeted killings ... (and) reiterates his predecessor's recommendation that the government specify the bases for decisions to kill rather than capture 'human targets' and whether the State in which the killing takes places has given consent,"
Got something to say about what you're reading? We value your feedback!