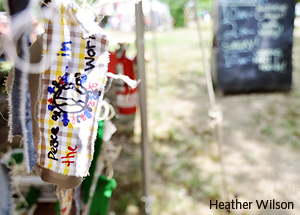 Fed up and worn out from the grind of life in D.C., I decided to head to Shakori Hills, North Carolina for the Wild Goose Festival last weekend. I had no idea what to expect as we bumped down the dusty driveway, but I knew that it had to be different, and that "different" -- in whatever form -- was good.
You see, I spend much of my work and faith life feeling as though I'm wearing my cousin's hand-me-down shoes that are one size too small. While still in good condition and very useful, they just don't quite fit. With that discomfort in mind, I arrived at the Wild Goose Festival to the sounds of large drums and soulful voices rising from a sound check mixing in the evening air. Within minutes of climbing out of our car, I was hugged excitedly by a friend I had not seen in years, and I knew it was going to be a good weekend.
As a photographer, the creative, colorful space of the festival was thrilling and refreshing. As a person of faith, the conversations on spirituality and justice were challenging and encouraging. Surrounded by folks, young and old, from a wide variety of faith traditions (Fransiscans, new monastics, evangelicals, emergents, Catholics, anarchists, agnostics, and more), I found the diverse and accepting environment therapeutic for my soul.
I hope you enjoy the photos that I took at the event and can experience, in some small way, the inspiration and refreshment I felt as a participant at the inaugural Wild Goose Festival.

Heather Wilson is associate web developer at Sojourners and a freelance photographer. She has spent the past 10 years working throughout the U.S., Asia, and the Middle East, doing photography and communications work for developmental non-government organizations. To see more of Heather Wilson's photographs, click here.
Got something to say about what you're reading? We value your feedback!