For the last decade, Black Lives Matter organizers and other activists have cultivated a renewed energy around addressing racism in the U.S. Sen. Cory Booker (D-N.J.) hopes to channel that energy through legislation that would overhaul the U.S. Department of Agriculture, a government agency that has frequently been called "the last plantation" because of its history of discriminatory practices.
The USDA's combination of racism, intentional neglect, and mistreatment led to a 98 percent decrease of Black farmers between 1920 and 1997, according to analysis of Census Bureau and USDA data. The lack of support for small farmers — who were disproportionately Black — led to a loss of 90 percent of Black-owned farmland between 1910 and 1997. In contrast, white farmers lost about 2 percent in the same time period.

"This did not happen by accident, and it was not a choice on the part of those farmers," Booker said during a December virtual roundtable held by the Southern Economic Advancement Project. "The loss of millions of acres of farmland worth hundreds of billions of dollars was primarily caused by systemic racism and discrimination within the USDA against Black farmers."
Booker introduced the Justice for Black Farmers Act in 2020, and introduced it for the current legislative session earlier this month. The bill is co-sponsored by Sens. Elizabeth Warren (D-Mass.), Kirsten Gillibrand (D-N.Y.), Raphael Warnock (D-Ga.), Patrick Leahy (D-Vt.), and Tina Smith (D-Minn).
Booker said the bill came out of conversations with Black farmers and leaders in agriculture, who applaud theattempt to restore Black farm ownership, address current discrimination within USDA, and tackle broader problems like the climate crisis and industry standards.
"[The government has a responsibility to invest in Black farming] because it's dying every day. A lot of people, they just don't have faith in the government," Corey Robinson, a cattle rancher in Pilot Point, Texas, north of Dallas, told Sojourners.
That lack of faith is due in part to USDA's failure to live up to their own promises when it comes to Black farmers. By the department's own admission in various reports, discrimination and neglect in providing access to credit, disaster assistance, crop insurance, and more, "has been a contributing factor in the dramatic decline of Black farmers over the last several decades."
To address this, the Justice for Black Farmers Act would create an independent oversight board to oversee the department's civil rights office, where reports of discrimination are investigated. It would also place a moratorium on foreclosures for farmers with pending civil rights complaints, addressing past accusations that investigations of these cases were "slow-walked" until the statute of limitations ran out.
The bill would also create an equity commission to study the "legacy of discrimination against Black agricultural producers, including by investigating discrimination in Farm Service Agency county committees and claimants who did not receive payments under Pigford v. Glickman." Any farmer who filed a claim under the landmark Pigford case of 1999 would have their USDA debt forgiven.
Warnock introduced the similar Emergency Relief for Farmers of Color Act, which is currently included in the $1.9 trillion COVID-relief bill. Warnock's act would offer $4 billion in relief payments to help farmers of color "pay-off outstanding USDA farm loan debts and related taxes, and help them respond to the economic impacts of the pandemic." Structured in a similar manner to the JBFA's debt-forgiveness provision, it would render that portion of Booker's bill moot if it remains as part of the COVID-relief. Warnock's bill passed the Senate on a party-line vote, and the House will vote on the legislation this week.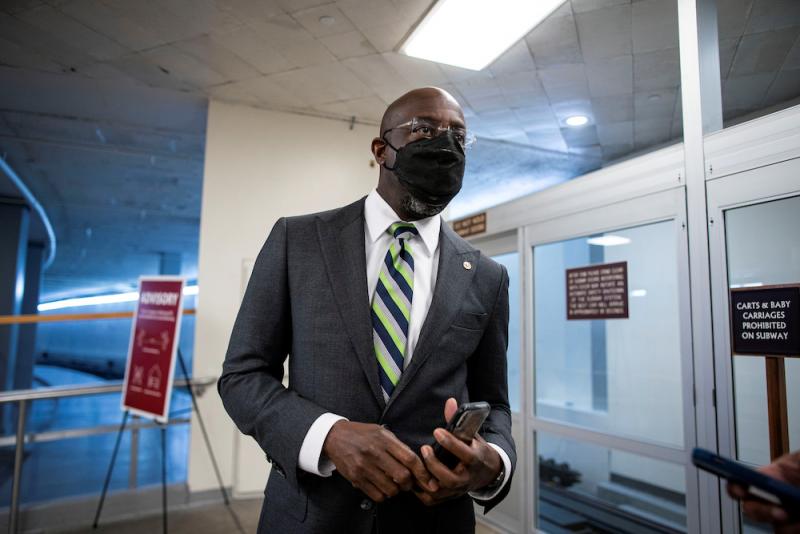 Land as a tool for justice
Sha'Von Terrell, deputy director for the Black Church Food Security Network, which works to connect Black farmers with local Black congregations, said the organization endorsed the bill because it it contributed to the goal of food sovereignty for Black people.
Under the bill, USDA is directed to provide Black individuals with land grants of up to 160 acres — up to 20,000 grants in the next decade. The department would also pay for training for those with no prior farming experience, and they would provide favorable loans and mortgages to recipients of land grants.
"Our goal as an organization is to create community-based food systems that are supported by the assets within the Black community, such as the Black church, in partnership with Black farmers," Terrell said. "But, in order for us to reach that goal — to create those just food systems — we first have to address those systemic issues."
Justice, through the means of land investment, is something that resonates with the biblical themes that undergird the BCFSN's work.
"The first job that God gave to the humans was to till and keep the land," Terrell said. "Giving land back to the Black community, or any community that has been disproportionately affected by discriminatory and racist policies, puts them back in a position to define the food that is culturally appropriate for their neighborhood, for their area, [and] for their culture at large."
The bill would also provide funding for historically black college and university programs dedicated to agriculture. Over the next decade, it would provide $500 million per year "to commence new courses of study and expand existing courses of study focused on careers in agriculture."
This investment in the future of Black farming is seen as a critical component of restoring Black America's farmland. Robinson, the rancher from Texas, told Sojourners he knew several young Black farmers whose "biggest issue" was obtaining the "money and the resources" to begin farming.
"I'm in a couple of Facebook groups, and there's a lot of young Black people that want to get into farming, or growing vegetables in their backyard, or in urban areas and vacant lots," Robinson said.
"Some of the finance provisions in the Justice for Black Farmers Act are exactly what is needed, not just for Black farmers, but across the board," Zach Ducheneaux, executive director of the Intertribal Agriculture Council, said. "We need to start to treat agriculture and food systems as an investment, and not as a greed-based mechanism for ag finance institutions."
The Native Farm Bill Coalition, of which IAC is a member, has endorsed Booker's bill, along with numerous other organizations, unions, and coalitions.
Ducheneaux told Sojourners that the bill's reforms and programs will benefit all farmers previously disenfranchised by the USDA, even if its focus is Black farmers.
"Having large coalitions to be able to have the conversations, have those solutions out on the table, is what's going to be able to build the support necessary to make these large-scale, systematic changes and shifts," Colby Duren, policy director and legislative council at IAC, said.
USDA's return to Vilsack
Tom Vilsack's confirmation as President Joe Biden's USDA Secretary, the same role he held under former President Barack Obama, has pushed the need for overhaul and oversight into the spotlight once again.
In 2019, an investigation by The Counter reported that Vilsack and USDA staff misrepresented and lied about a number of civil rights issues and misrepresented improvements among Black farmers during Vilsack's previous eight years as head of USDA.
"There were definitely immense improvements that could have been implemented while [Vilsack] was in office for eight years," said Jillian Hishaw, who worked a year in USDA's Office of the Assistant Secretary of Civil Rights and founded and directs Family Resource Management Services. "The neglect regarding the Black farmer is egregious, because of that, this bill is needed."
During the December roundtable, Booker said now is the time for "expanded moral imagination."
Farmers like Robinson appreciate that bill will redress USDA's previous discrimination, truly providing Black farmers the same assistance available to white farmers while simultaneously investing in the future of Black farming through land grants.
"They need to open up, share the programs that are available, and make it an even playing field," Robinson said. "No one is asking for a handout, just a level playing field."
Got something to say about what you're reading? We value your feedback!