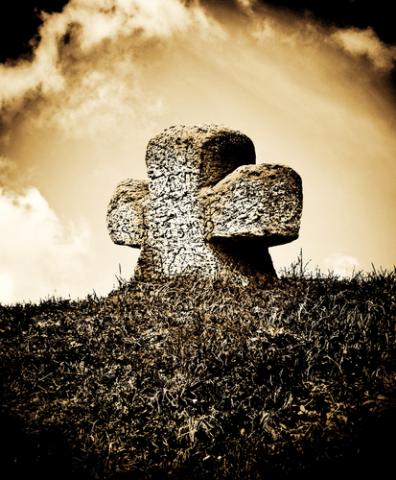 I know I'm cynical, but I didn't know how dead I got inside.
It was easy to give up on the world. There are way better people than I failing to pull us out of our quagmire.
It was pretty easy to give up on the church too. Pick your disappointment.
It was more difficult to give up on myself, but I did. I tried hard enough and let myself down often enough that I came to believe I can't be anything other than a self-absorbed asshole pouring alcohol on his wounds behind my prickly defenses.
It wasn't long after that dark epiphany that I gave up on my marriage. Divorce wasn't an option, but we reached a stalemate. The fresh life of our relationship was drained by daily responsibilities and we became stale mates. It was heartbreaking to accept that my marriage can't move beyond an efficient business arrangement, but I did that too.
I can't believe this is the truth, but I even started to give up on my kids. I told them not to be like me, but I knew they would.
I experienced some freedom in giving up, but I paid for it with bitterness. Pessimism eventually weighed me down and made it increasingly impossible to enjoy my laissez-faire liberty.
So, like I said, I knew I was cynical, but I didn't know I was about to die from my cynicism. Then I went to the Wild Goose Festival. I wasn't healed there. Just the opposite. I was playfully wooed to mourn the passing of my younger self.
I was teased to my graveside by Frank Schaeffer and Ian Morgan Cron. I was promised resurrection by Cathleen Falsani and Phyllis Tickle. I was soaked in life-giving rain and music and beer and art and people. The whole time I was chased by the Wild Goose until I was caught.
By the end of the weekend, I was convinced that the wounds my younger self suffered were indeed fatal. It was time for the disappointed, imploding, heartbroken and hopeless child to die.
I mourned. I cried hard. Then I left the cynical youth in the North Carolina dirt.
Erik Guzman, aka "The Merry Monk of Love," is a whiskey mystic, a silly son of God and messy martial artist. He's "the Weeping Wasichu and the Merry Monk of Love... an alter ego wrapped in an alter ego inside a disc jockey." Erik blogs at The Merry Monk.
Image: Molodec/shutterstock