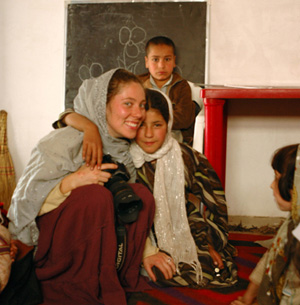 Ten more lives were lost in Afghanistan last week. Many people will likely say this danger is reason not to work in Afghanistan, yet I would disagree.
Panicked as I saw the news Saturday morning, I immediately began chatting with friends around the world who I'd worked with in Afghanistan, trying to figure out the names of those killed, which had not yet been published. Stuck to my kitchen stool, tears streaming, I was horrified by the violence and bombarded by grief with each new name learned. Working in Afghanistan, the faith-based aid community quickly becomes tight-knit.
It's been three days since I found out, and I wonder when the tears will abate. They've not yet.
For me, and for hundreds -- Afghan and foreign alike -- these 10 are people we will never have the joy of encountering again. They are not a news report, but friends, and family, and coworkers. The grief at the loss of their remarkable lives is great.
Many think we are foolish to live and work in Afghanistan, but we are not blithely unaware. We knowingly consider this danger, having to choose whether proactively working for the peace and restoration of a country and its people is worth the risk. And we decide that it is. Because as people of faith, we believe that love, mercy, grace, forgiveness, and service are meant to interrupt the hate. We believe that one in six women should not die in childbirth, that kids should have schools with trained teachers, that families should have food, and that basic health care should be available. And so we go -- we give, and love, and risk.
I've carried around the following quote by Martin Luther King Jr. on a 3x5 notecard for years:
"Peace is not merely a distant goal that we seek but a means by which we arrive at the goal.
Through violence you can murder a murderer but cannot murder murder.
Through violence you can murder a liar but you cannot establish truth.
Through violence you can murder a hater but you cannot murder hate.
Darkness cannot put out darkness; only light can do that.

We will not build a peaceful world by following a negative path. It is not enough to say we should not wage war, it is necessary to love peace and sacrifice for it. We must concentrate not merely on the negative expulsion of war but on the positive affirmation of peace. We must say that peace represents a sweeter music, a cosmic melody that is far superior to the discords of war."
Those who were murdered lived this, some of them having given decades to the people of Afghanistan. In them, we've lost people who sacrificed and loved when most others would not.
And I'm challenged that, even though I don't live in Afghanistan today, I am no less intended to live this life of sacrificing for peace. My city and my neighborhood need the hatred, fear, and despair to end as well. In the wake of this loss, I have the choice to either grow in compassion and empathy, or to be hardened by the violence -- for peace does not come without sacrifice.
A good friend wrote in an email yesterday, "Of all the proposed solutions to the world's problems, I suppose that this would be the best -- that many of us would give up our shot at luxury and fortune and give selflessly to those who have been ignored or mistreated."
So what is our response? Because the solution to darkness requires more than a few people. How will we be part of giving selflessly to bring an end to violence and hate?
Cheryl Beckett, Tom Little, Dan Terry, Glen Lapp, Tom Grams, Karen Woo, Brian Carderelli, Dahram Ali, Daniela Beyer and Jawed -- thank you for being examples to us of what it means to live lives that put out darkness. You will be missed terribly by many.
And today, oh, that I may be willing to love peace and sacrifice for it.
Heather Wilson is Marketing/Circulation Assistant at Sojourners and a freelance photographer. She has spent the past 10 years working throughout the U.S., Asia, and the Middle East, doing photography and communications work for developmental non-government organizations.
Got something to say about what you're reading? We value your feedback!