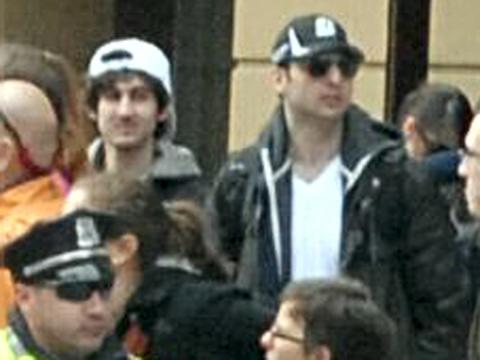 Boston residents are waking up this morning to a virtual shutdown of many parts of the city after a contfrontation that left one of the marathon suspects dead, according to reports. An M.I.T. police officer was also killed. From NBC News:
Law enforcement officials said the tumult began just before 11 p.m., when the suspects approached a police officer from the Massachusetts Institute of Technology and shot him in the head.

The two then stole the officer's cruiser, robbed a nearby 7-Eleven, carjacked a Mercedes SUV and briefly kidnapped the driver, the sources said. The suspects threw explosives out the window during the chase that followed, they said. A Boston transit police officer was shot and wounded, authorities said.

The dead suspect — the man in the black hat from the FBI photos — had an improvised explosive device strapped to his chest, law enforcement officials said.
The two suspects have been identified as brothers — the one on the run identified as 19-year-old Dzhokhar Tsarnaev.
This story is developing.
Visit NBCNews.com for breaking news, world news, and news about the economy