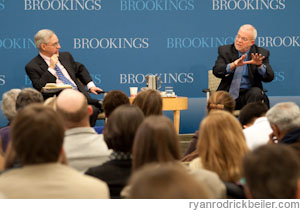 This Monday we had a great launch event at the Brookings Institution in Washington, D.C. My favorite newspaper columnist and good friend, E.J. Dionne, hosted and moderated a thoughtful discussion with a packed audience in the Brookings auditorium. E.J. insightfully noted that there is always a tension between a democracy and a market economy. The room was filled with Washington political and policy people, local pastors, economists, journalists, and assorted activists from around the city. Again, the depth and passion of the conversation suggested to me that America really is ready for a new conversation on economics and values -- though, I suggested, it is still not clear whether the media is interested. I told the gathered crowd that I regretted not having the foresight to include chapters in the book on airport security and Tiger Woods so as to attract the attention of the really serious media in Washington D.C. Trying to find a moral compass for a new economy is much less sexy than those hot potatoes. The audience resonated especially to the idea of "Let's make the banks smaller."
You can read the event transcript, listen to complete audio, and watch selected video clips at the Brookings Institution.
On Tuesday, there were more radio interviews -- one with Bill Press who is now syndicated on sixty stations nationwide, and our first television interview on the book with ABC's TopLine, a fast-moving daily news show that started with Harry Reid's comments on Obama's skin color and language, and ended with the need for a moral recovery to accompany the economic recovery.

Jim Wallis is the author of Rediscovering Values: On Wall Street, Main Street, and Your Street -- A Moral Compass for the New Economy, CEO of Sojourners and blogs at www.godspolitics.com.