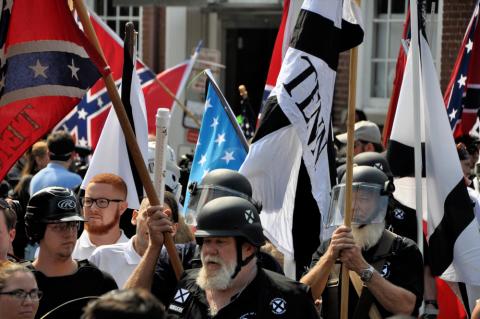 A black counterprotester at August's Unite the Right rally has been sentenced to 20 days in jail for disorderly conduct, according to The Root.
Corey Alexander Long, who used a spray paint can and a lighter to defend himself against white supremacist marchers in Charlottesville, Va., was found guilty on Friday.
According to The Root, Long says he was acting in self-defense, using spray paint and fire after a white supremacist threatened him with a gun. Long alleges that marcher Richard Preston aimed a gun at his head and fired a bullet into the ground.
The Virginia judge disagreed, citing Long's actions as dangerous and sentencing him to 360 days in jail. Long's sentence was later shortened to 20 days plus 100 hours of community service.
Supporters from Black Lives Matter—Charlottesville, Congregate Charlottesville, Showing up for Racial Justice—Charlottesville, and other civil rights groups formed a coalition called "Drop the Charges" and gathered outside the courthouse Friday in support of Long.
They also released this statement:
We are outraged that Corey Long has been convicted for simply asserting his humanity in the face of white supremacist violence. After August 12, thousands of people across the country celebrated Corey's image as a symbol of resistance to the violent white supremacist incursion on Charlottesville. Now Corey has been convicted by Commonwealth Attorney Joe Platania and the courts of a crime for his brave actions to protect Charlottesville. What hypocrisy. We cannot accept a system of "justice" that allows white supremacists to physically attack a community and then also helps them target their victims in court. Joe Platania must stop cooperating with white supremacists and drop the remaining charges against Donald Blakney, the other black man he is prosecuting for similar reasons. We cannot let our government be used to further the fascist agenda.
Long was also charged with assault. This charged was dropped when the alleged victim did not appear in court.
Send Us a Note
Got something to say about what you're reading? We value your feedback!