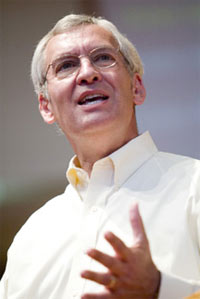 At its board meeting last month, the National Association of Evangelicals formally named Leith Anderson as its president. Anderson is senior pastor of Wooddale Church in Eden Prairie, Minnesota, and has been serving as interim president of the NAE for the past year.
I've had the opportunity to spend some time with Leith Anderson. I believe he is the kind of leader most needed these days, both for the NAE and for the wider evangelical community. He has both the heart of a pastor and the passion of a prophet, and he finds ways to be true to his convictions and be committed to bridge-building.
In a recent interview with Christianity Today, Anderson spoke of the NAE and public policy,



There is no shortage of evangelicals that have passion about every topic in contemporary life. The challenge here is not to find people who are interested. There are plenty of people who are interested. It's, How do we unite evangelicals in understanding what the issues are and having a moral perspective in how we approach them?
And, in developing that moral perspective, he noted



We have a document that is called "For the Health of the Nation." They are seven priorities that the NAE organizes around in terms of being a public voice.




[The document] relates to religious freedom, sanctity of human life, human rights, and creation care. It was first issued in 2003 and then reaffirmed by the NAE in March of this year. What we're doing is organizing many of the activities of the Washington office and the association around each one. These are big topics like justice and compassion for the poor and the vulnerable.
On immigration reform, one of the most controversial issues in America today, Anderson said,



I'm hoping that in the future we are also going to be able to engage more on the issue of immigration in America. It's a pressing issue that the country needs to unite around. We need to have a biblical voice. We need to recognize this is a high concern for the Hispanic community, which has a large numbers of evangelicals within it. Hispanic churches are the fastest growing in the nation and immigration is a top priority. Up to this point, NAE has not made any formal statements on it. I just anticipate this will be a growing priority and concern which fits under the topic of justice.
I congratulate Leigh Anderson on his new position, and look forward to working with him.