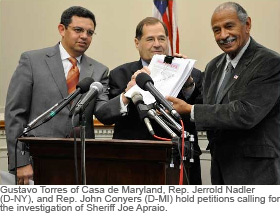 Action alerts make a difference. Our call for the Department of Justice to investigate Arizona Sheriff Joe Arpaio has succeeded!
Yesterday, Acting Assistant Attorney General Loretta King sent a letter to the Maricopa County Sheriff's Office announcing a Department of Justice investigation of alleged "discriminatory police practices and unconstitutional searches and seizures conducted by the MCSO," among other alleged violations of federal law under the direction of Sheriff Joe Arpaio. The formal investigation follows a request by Congressman John Conyers (head of the House Judiciary Committee) for the DOJ to respond to the myriad of complaints of racial profiling in Maricopa County.
A racial profiling expert called this the "first civil-rights investigation stemming from immigration enforcement" undertaken by the Department of Justice.
This is exactly what we requested. Sojourners online activists submitted more than 9,000 letters to Attorney General Eric Holder, and alongside other groups like ACORN, National Day Labor Organizing Network, and America's Voice, the total was well over 35,000. Together we cried, "enough," and we won.
Thank you.
However, "la lucha sigue"-- the fight continues. The investigation of Sheriff Arpaio may take months. In the meantime, we must continue our collective efforts to uphold the civil rights and human dignity of immigrant communities around the country.

Allison Johnson is the campaign coordinator for Christians for Comprehensive Immigration Reform (CCIR). Her commentary "Shackling the Stranger" appears in the April issue of Sojourners magazine.