advise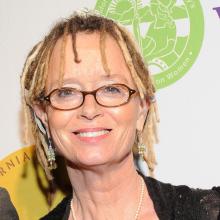 Author Anne Lamott, one of our favorite Jesus-loving subversives, recently delivered the undergraduate and interdisciplinary studies commencement address at the University of California at Berkeley.
Lamott's funny, irreverent, and yes, profound, words of wisdom for the Berkeley graduates included the following, about what she thinks the "truth of their spiritual identity" might be:
Actually, I don't have a clue.
I do know you are not what you look like, or how much you weigh, or how you did in school, and whether you get to start a job next Monday or not. Spirit isn't what you do, it's … well, again, I don't actually know. They probably taught this junior year at Goucher. But I know that you feel it best when you're not doing much — when you're in nature, when you've very quiet, or, paradoxically, listening to music....