abortion clinics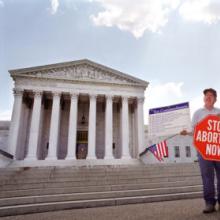 The war over abortion is going digital.
Missouri last month joined six other states that have enacted bans on abortion by telemedicine this year. That's a process in which women take pregnancy-ending medication that a doctor remotely administers during a video conference.
The practice, available to women in their first nine weeks of pregnancy, is now prohibited in 11 states, according to the Guttmacher Institute, a research group that supports abortion rights.
In Iowa — where telemedicine abortions were pioneered — the Board of Medicine voted in June to effectively shut the practice down, and state legislators have declined to intervene in the dispute. A public hearing before the board is set for Aug. 28.
"Telemedicine is spreading across the country in chronic disease and mental health care, but abortion's the only way we're seeing it restricted," said Elizabeth Nash, state issues manager at the Guttmacher Institute. "Whenever there's an advancement in health care, an abortion restriction is never far behind."