women in church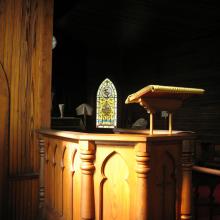 I've attempted to catch some of the Republican National Convention last week and this week's Democratic National Convention. Some of it has been educational, others infuriating, others confusing, and still, others very inspiring.
I am listening and watching as I want to be more deeply educated and informed so I can steward the privilege of voting with care, prayer, and discernment. But thus far (and I know that the DNC has just gotten underway), one clear observation for me from both the RNC and DNC has been the amazing voices, words, leadership, and speeches from…the women.
The three that obviously stood out for me were the speeches delivered by Ann Romney, Condoleezza Rice, and Michelle Obama. Ann's speech was heartfelt and compelling. Condoleezza's speech was inspiring and dare I say it…"presidential." And wow, Michelle Obama's speech was simply riveting. I found myself in tears on couple occasions during the FLOTUS' speech.
As I soaked in the inspiring speeches from these women, I was mindful of the incredulous fact that the 19th Amendment to the American constitution — allowing women to vote — only took place in 1920. Just 92 years ago and with that, America became just the 27th country to support "universal suffrage."
Without any offense intended to others — especially the male speakers — their speeches were the clear highlights. I don't care what others will do or say during the DNC from here on out, no one is going to top the speech delivered by Michelle Obama.
But this isn't my attempt to say that women are better than men, more articulate than men, more intelligent than men, or any other nonsensical comparisons. Rather, I want to simply communicate how incomplete the conventions would have been without their voices, words, challenges, and exhortations.
Imagine if only men were allowed to speak.