whites
The percentage of white Americans (46 percent) who believe blacks and other minorities receive equal treatment to whites in the criminal justice system is exactly the same as it was in 1992 — the year of the Rodney King riots in Los Angeles, according to the Public Religion Research Institute. In contrast, only 17 percent of black Americans and 39 percent of Hispanic Americans agree.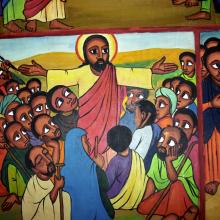 In the wake of Megyn Kelly's statement that "Jesus was a white man," critics have quickly and unanimously responded that Jesus was not a white man. Here at Sojourners, Rev. Laura Barkley has debunked Kelly's statements, noting that Jesus "was a Palestinian Jew in first-century Nazareth."
In his article over at The Atlantic, Jonathan Merritt argues that Jesus is not only not a white man, but that scripture is mostly quiet about Jesus' racial makeup. Quoting Martin Luther King Jr., who once said, "The color of Jesus' skin is of little or no consequence," Merritt agrees with historian Edward Blum, who draws from King's statement that "Jesus transcends race." Ultimately, Merritt points to the universality of Jesus, focusing on Christ's availability to all, to individuals from "every tribe, nation, people and language."
Yet in pointing to the universality of Jesus, it is easy to pass over his particularity to a certain time and place.