white church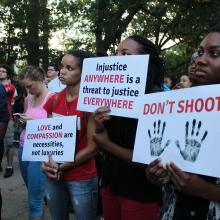 I've been calling it the Summer of Helplessness.
From the conflict in Gaza that has left more than 1,000 civilians dead, to the downing of Malaysia Airlines Flight 17 over the skies of Ukraine, to the Ebola breakout getting worse by the day, to the shooting of yet another unarmed black teenager here in the U.S., the news of late is enough to make a person feel paralyzed with helplessness and despair. My prayers these days are of the tired, desperate sort: How long, O Lord? Will you hide your face from us forever?
But when it comes to violence and oppression, we are rarely as helpless as we think, and this is especially true as the events unfolding in Ferguson force Americans to take a long, hard look at the ongoing, systemic racism that inspired so many citizens to protest in cities across the country this week.
I've heard from many of my white friends and readers who say they aren't sure how to respond to the anger and grief they are watching on TV or hearing from their black friends. They want to be part of the solution but don't know where start. They may even feel a little defensive when they hear people talking about white privilege or inaction on the part of white Christian leaders. I'm in the process of learning too, but as I've listened to people of color whose opinions I trust, I've heard them issue several calls to action we can all heed.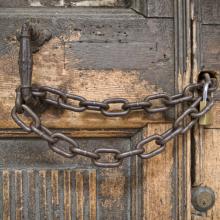 Over the past week, as the nation has wrestled with the implications of the "not guilty" verdict in the George Zimmerman trial, I have concluded that many in white America are desperately trying to remind African Americans that, when it comes to race in America, silence is golden. Their effort implies that any honest dialogue about race that includes the stories and experiences of African Americans disturbs the idea of the "American experience" for those of a lighter hue.
This message came through loud and clear last Friday following President Obama's unexpected and personal reflection on the death of Trayvon Martin and the verdict on the trial of George Zimmerman.