well-regulated militia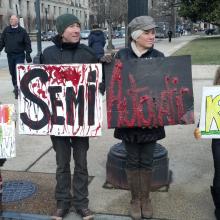 So you might think that religious folks for the most part are not big fans of guns, and for the most part you'd be right.
And then you run across these comments from a California legislator, who said guns are "essential to living the way God intended." That was Rep. Tim Donnelly, who told a Christian radio show Jan. 16 that guns "are used to defend human life. They are used to defend our property and our families and our faith and our freedom."
Well, yes, guns are used that way. They are used in lots of other ways too — to kill people we don't like, to hold up banks, to commit suicide. It's harder to wrap those under the banner of God's intent.
For Christians, it's hard to square the deification of guns with Jesus telling his followers to put away their swords, even as he was being arrested and led off to death.
That's why a wide coalition of religious voices are speaking out in the great national debate about how we can live up to the Second Amendment's call for having a "well-regulated militia." Notice the words "well-regulated."
As the Very Rev. Gary Hall, the new dean of the National Cathedral in Washington, D.C., said two days after the horrific shootings at Newtown: "I believe the gun lobby is no match for the cross lobby."