walking on water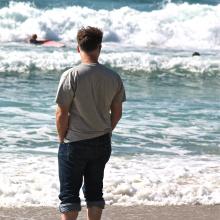 I was standing there on the shore, jeans rolled up, my ankles in the surf.
It was day two of the Rob Bell event and people were surfing.
Yes, surfing.
Rob brings in a couple of surfing instructors and, if you want to, you can rent a board and take a lesson. It's a good time. I watched a lot of people surf for the first time as I stood on the shore ...
watching ...
waiting.