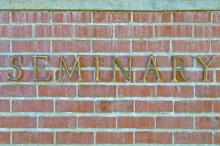 Paul said, "the foolishness of the cross" not "the stable middle-class lifestyle," if you want my opinion on seminary education, the changing economy, and baptismal identity in general. We bear a responsibility to care for one another as Christians (and beyond) that we have abdicated to the persnickety "marketplace." It's time to talk about holy poverty again, I think.
I can hear my free church friends and colleagues now, "But we don't take a vow of poverty!" It's true. We don't. We remember this historical movement away from the monasteries and the cathedrals, the parish system and the state church. This is an issue of ecclesiology, no question. What I wonder, however, is if in our attempts to not fall into the traps of the past, we simply have settled on the marketplace as our model for ecclesiology. I assume we have.
My degree is a "professional degree," yet within its conceptual framework the notion that I am "professed" is easily lost. I am not called to earn, but to labor, to serve. My work is "worth" nothing. Instead, it is a response to a vocation that in many ways we all share. The wealth of the community affords me the opportunity to respond to that shared call in a particular way. I am not your employee. I am your pastor. I am poor. Any wealth I may posses comes directly from the pockets of others.