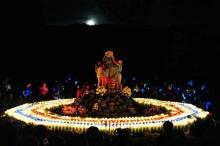 BIRMINGHAM, Ala. — Could a Virgin Mary statue under a pine tree in the middle of a cow pasture in rural Alabama one day become an officially recognized international pilgrimage site of the Roman Catholic Church?
Yes, it could, said Michael D. Murphy, chairman of the anthropology department and a professor of anthropology at the University of Alabama who has specialized in studying the role of Virgin Mary apparitions in the Catholic Church.
"Without a doubt," Murphy said. "Some very unusual places have ended up becoming pilgrimage sites."

Marija Lunetti, the visionary who has been reporting daily visions of the Virgin Mary since she was a teenager in Medjugorje, Yugoslavia, had two outdoors apparitions in a field under a pine tree in Shelby County, Ala., during a highly publicized "five days of prayer" July 1-5 at Caritas of Birmingham.
Lunetti was one of six Medjugorje youths who began reporting apparitions of Mary in 1981. She was 16 at the time and known as Marija Pavlovic. Now 47, married with four children and living in Italy, Lunetti continues having daily visions.
She has been visiting Alabama since 1988, when she came to donate a kidney at UAB Hospital for her brother, Andrija Pavlovic. She had apparitions in the hospital and at the home of Caritas of Birmingham founder Terry Colafrancesco.