verses
God's word is rich with images of water. Drink up.
I can remember hearing several times as a middle and high schooler that Christians lie the most when they sing. These claims generally came from the mouths of college-aged worship leaders during emotional praise segments at mission camps and conferences. They were usually followed up with a heartfelt plea to raise honest words and promises to God during the next song. (And if we really meant it, we would ignore the burning stares of our judgmental, worldly peers and come down front for our seventh altar call.) 
Though I generally don't remember these scenes and indictments fondly, I have recently been contemplating the idea of honest worship, especially in relation to the Christmas season. I mean, how often do we memorize a whole song and sing along to it regularly without really stopping to contemplate the lyrics? And even when we do realize what we're singing, how often do we actually let those words transform our hearts or actions or perspectives?  
All of these thoughts started stewing in my mind during my Thanksgiving vacation two weeks ago. Per usual, I started playing Christmas music the day after Thanksgiving (and by the day after I mean a few days before). As I was washing dishes, belting out my favorite version of "O! Holy Night," I was suddenly struck with the thought What am I singing? Read the lyrics below to see if you get what I mean. (Hint: my moment happened somewhere around the second verse.)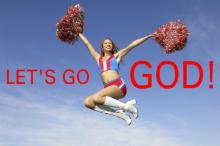 Cheerleaders at an East Texas high school are fighting their school district's orders to stop using Bible quotes on their signs at football games.
In August, cheerleaders at Kountze High School, a school with fewer than 500 students 30 miles north of Beaumont, Texas, began painting Bible verses on large paper signs football players burst through at the beginning of games.
But this week, Kountze Independent School District Superintendent Kevin Weldon called for an end to the banners after consulting with a legal adviser at the Texas Association of School Boards.
"It is not a personal opinion of mine," Weldon told KHOU, a Houston television station. "My personal convictions are that I am a Christian as well. But I'm also a state employee and Kountze ISD representative. And I was advised that such a practice would be in direct violation of United States Supreme Court decisions."
That prompted the cheerleaders and their supporters to launch a Facebook page, "Support Kountze Kids Faith," which attracted 34,000 members in its first 24 hours — more than 10 times the population of Kountze.
Parents of at least three cheerleaders have hired an attorney and are considering suing the school district.