vengeful God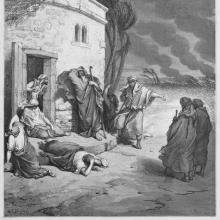 Is God a Cosmic Jerk?
That's how I ask the question, but professional theologians use the term theodicy. It comes from two Greek words: theo, which means "God," and dike, which means "justice." Theodicy asks, "If God is good and just, then why is there so much evil in the world?" There are many answers to this question. Some claim that God causes evil. In which case, my question becomes relevant – Is God a Cosmic Jerk?
Let's first examine the word "evil." Theologian Joe Jones succinctly defines evil in his book A Grammar of Christian Faith "as the harm to some creature's good" (280). Jones distinguishes between two categories of evil that harms a creatures good. First, there is moral evil – the harm humans inflict upon one another through violence, injustice, and oppression. The second category is natural evil – the harm caused by cancer, earthquakes, hurricanes, and other natural events.