U.S. history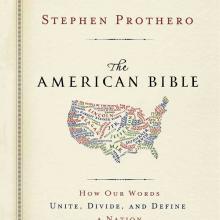 Abraham Lincoln's "Gettysburg Address" radically reinterpreted the Declaration of Independence.
The Rev. Martin Luther King Jr.'s "I Have a Dream" speech riffed on Lincoln's lofty language.
And Ronald Reagan drafted King's dream of a country where character outweighs color into an argument against affirmative action. 
There are certain speeches, songs, books, letters, laws, and axioms that Americans appreciate enough to argue about, says religion scholar Stephen Prothero.
Like the Declaration of Independence, this almost consecrated canon inspires endless commentary about what it means to be American — and what "America" means.
I'm not suggesting we not be thankful. But if it were up to me, I'd repeal the official day of Thanksgiving that was sanctioned by Congress because no matter how we want to re-tell or re-write that story, we are marking an event of injustice.
In removing this day, I'd encourage the whole country to express sorrow for such a grave injustice to the Native Indians and create events and various forms of curriculum in parallel. I'd express gratitude and celebration of the story and legacy of the native Indian people. And I'd put into law that ensures reparation for every single descendant of Native Indians. Furthermore, I'd create a fund to guarantee 100% funding to college for any descendants of Native Indians. This is just for starters….
In my opinion, our treatment of the Native Indians is one of the greatest human tragedies and to ignore its story and context may be the pinnacle of historical revisionism.