U.S. Border Patrol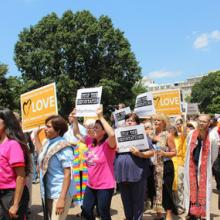 In the face of an imploding immigration system, an exploding political debate and a deadlock on reform in Washington, it was religious leaders who rallied to form a humanitarian response to the surge of unaccompanied children crossing the border to the United States this summer.
The number of migrants crossing the border began its steady rise in 2011, but it escaped the Obama administration's notice until spring, when the rise became a wave.
By September, 66,127 unaccompanied children and 66,142 Salvadoran, Guatemalan and Honduran families had crossed into the Southwest, mostly into the Rio Grande Valley. The flood contributed to a backlog in U.S. immigration courts of nearly 400,000 cases.
Nowhere was the religious leadership more apparent than in McAllen, Texas, where churches and local government forged an effective and compassionate response to the crisis.
Candles burn near the bloodstained concrete sidewalk where a youth was tragically killed when more than a dozen bullets shot across the wall into the Mexican bordertown. I've walked that sidewalk running parallel to the border wall and Calle Internacional in Nogales, Sonora possibly hundreds of times. It is with this intimate awareness of the context that I describe how recent deaths in the name of homeland security are an affront to all families of the borderlands.
Four deaths in six weeks across the border region, one common offender
On the evening of Oct. 10 U.S. Border Patrol agents shot and killed 16-year old José Antonio Elena Rodriguez. The shots were fired through the paneled border wall in Nogales hitting José Antonio in the back seven-to-eight times. The agents allege the boy was involved in rock throwing. For more detailed description of the circumstances, see this article.
About a week earlier, Border Patrol agent Nicolas Ivie, 30, was killed in Naco, another Arizona border town just east of Nogales, when a fellow U.S. agent searching for smugglers mistakenly opened fire. Agent Ivie has a wife and two young daughters who live in southern Arizona, and the family is publicly fundraising to survive without him.