Ultimate Frisbee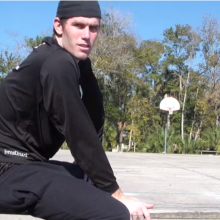 It's almost impossible to talk about Christians in sports without talking about Tim Tebow (case in point). But there's another University of Florida grad who has gained attention from another sport — Ultimate Frisbee.
Unlike mainstream sports like baseball and football (and futbol), Ultimate is a relatively new sport. In fact, it is not much older than Sojourners, as it was reportedly invented in 1968 (Sojourners was founded in '71). And like Sojourners, it has gained momentum through word of mouth to the point that it is a nationally recognized sport.
Even with the infiltration of high school sports, college teams, and semi-professional clubs, Ultimate is, for the most part, faceless, with the exception of one man: Brodie Smith. Smith grew to be a nationally recognized Ultimate player through his Youtube trick shot videos.