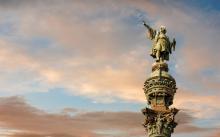 As an explorer, Columbus was not the first to reach the Western Hemisphere. Native Americans had been here for 10,000-20,000 years, and Vikings and Chinese are among those others who hold prior claims. Even after four attempts, Columbus never realized his goal of finding a western ocean route to Asia. As a "founding father type figure" he never set foot in what is now considered America but landed in the present day Bahamas, Cuba, and Haiti. 
As a Christian example he enacted terrible cruelties to friendly natives: assuming unlawful rights of authority; robbing and subjugating whole nations of their freedom and entire capital; allowing his men to rape, murder and pillage at will; and deliberately leading the way for the genocide of millions, considered by many to be the worst demographic catastrophe in recorded history.
So why do Americans celebrate Columbus Day?