trade agreements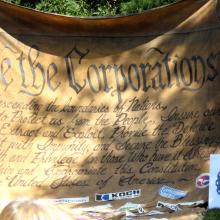 When the U.S. is negotiating a mammoth, powerful international trade agreement, what do negotiators do when faced with tradeoffs between commercial interests in the U.S. and other U.S. values—such as human rights, preserving the planet we all have to live on, and helping the poor?
That's the question I asked Carol Guthrie, Assistant U.S. Trade Representative for Public and Media Affairs, last weekend at the Leesburg, Va., resort where the next big thing in trade negotiations—the Trans Pacific Partnership (TPP), basically NAFTA for the Pacific Rim—was taking shape in its 14th round of negotiations.
Many parts of civil society, from the Sierra Club to the Columban Fathers, argue the TPP would have profound negative effects on the environment, public health, human rights, internet freedom, and the global poor, among other things. A number of civil society groups showed last Sunday in Leesburg, where they could sign up for a chance to speak to negotiators—but not, unlike around 600 mostly-corporate insiders, to see the actual text being negotiated. (Members of Congress reportedly are allowed to see the text—but, unlike the insiders, not to download a copy, take notes, or bring an expert staffer with them).