tornado alley
Oklahoma is probably one of the tougher places to be a Muslim in America, but Muslims have stepped in to help with the cleanup of a massive tornado that killed 24 people.
"As Oklahomans, we're part of this community, and our hearts just break for what happened," said Adam Soltani, executive director of the Oklahoma chapter of the Council on American-Islamic Relations, one of several Muslim groups collecting donations.
"We want to show the compassion and mercy that Islam teaches us."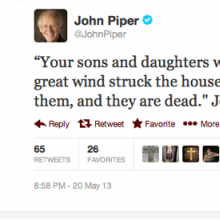 Many of my liberal friends never call themselves "Christians." Their hesitancy is usually a reaction against conservative Christians who, let's face it, are an embarrassment to the name. You know what I'm talking about – those who make crazy claims like natural disasters occur because God is angry at homosexuals. And then there are those who use phrases like, "legitimate rape."
Influential pastor John Piper provides the latest example. While most of my friends on Facebook and Twitter lamented the devastation wrought by the Oklahoma City tornado, Piper decided to show off his biblical acumen with this tweet:
"Your sons and daughters were eating and a great wind struck the house, and it fell upon them, and they are dead." -Job 1:19
Piper's tweet is a bit ambiguous. His reference to Job doesn't say that God caused the tornado, but Piper has historically claimed that God causes these types of disasters. In fact, this wouldn't be the first time Piper has tweeted something so theologically insensitive. A few years ago Piper claimed God caused a tornado in Minnesota because God was angry at homosexuals. Piper's god is a fickle Cosmic Jerk.