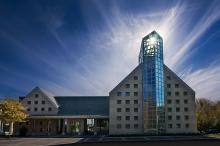 America's oldest graduate seminary is once again blazing a trail for other mainline Protestant institutions to follow. But this time it's a path many would rather not travel.
On Nov. 12, Andover Newton Theological School announced plans to relocate and sell its 20-acre campus in Newton, Mass. The move will be part of "a bold new direction" for the 208-year-old school as it struggles with big deficits.
"God is doing something new in this time," said Andover Newton President Martin Copenhaver.
"We have to figure out what it is and get with the program."