Teddy Roosevelt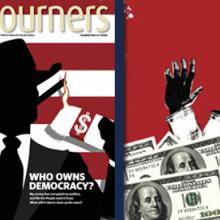 With political integrity drowning in big money, it's too late for small tweaks. The whole system needs a reboot.
In a speech to the American Israeli Public Affairs Committee's annual policy conference in Washington, D.C. on Sunday, President Obama urged Israeli leaders to refrain from "loose talk of war" related to escalating tensions with Iran. Quoting his predecessor President Theodore Roosevelt, Obama said when it comes to the Iran situation, both the United States and Israel would do well to, "Speak softly... and carry a big stick."
Obama meets with Israeli Prime Minister Binyamin Netanyahu today at the White House. Netanyahu, who is scheduled to speak to the AIPAC conference this evening, issued a short statement repsonding to Obama's speech Sunday, saying in part, "I appreciated the fact that he said that Israel must be able to defend itself, by itself, against any threat."