Tampa, Fla.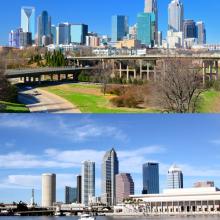 They have the two of the most stressful jobs in the country, at least for the next couple of months. Mayors Bob Buckhorn of Tampa, Fla., and Anthony Foxx of Charleston, N.C., will play host to the Republican and Democratic national conventions, respectively.
The two sat down with Politico's Chief White House Correspondent Mike Allen on Tuesday to discuss the challenges, economic opportunities, and politics of hosting such historic, national events.
"I don't look at this as a political event," Buckhorn said. "… Yes, I am a Democrat, but I intend to be the best host the Republicans have ever had."