surveillance drones
In Kabul, where the Afghan Peace Volunteers have hosted me in their community, the U.S. military maintains a huge blimp equipped with cameras and computers to supply 24-hour surveillance of the city. Remotely piloted drones, operated by Air Force and Air National Guard personnel in U.S. bases, also fly over Afghanistan, feeding U.S. military analysts miles of camera footage every day. Billions of dollars have been invested in a variety of blimps, which various vendors, such as Raytheon, Lockheed Martin, Northrup Grumman, and Aeros have shipped to Afghanistan. All of this surveillance purportedly helps establish "patterns of life" in Afghanistan and bring security to people living here. But this sort of "intelligence" discloses very little about experiences of poverty, chaos, hunger, child labor, homelessness, and unemployment that afflict families across Afghanistan.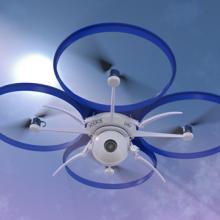 At first I had no problem with domestic drones joining the plethora of surveillance cameras to "keep us safe."
Big Brother — keeping his eye on me from above in stores, in traffic and everywhere else — would find my personal reality show boring. As a pastor, I'm used to living in a fishbowl. Besides, as John Calvin said, if you fear the eye of a human more than the eye of God, you have spiritual issues to address.
But then, there may be another problem with increased surveillance and flooding our nation's skies with drones. Let's take traffic cameras as an example.