supplemental nutrition
The central figures in four of the planet's largest religions – Christianity, Islam, Buddhism, and Judaism – were all once homeless. Moses was encamped in the Sinai, unable to return to the Promised Land. Jesus was born in a manger. Buddha wandered through the wilderness seeking enlightenment. The Prophet Muhammad was forced out of Mecca.
Is it a coincidence that each of these figures was, at key parts of his life, dispossessed from the society around him? Hardly. This is a clear message that even the most powerful can be made powerless.
In both Leviticus and Deuteronomy, believers are directed to give a set portion of their harvest to people in poverty and immigrants. It is neither voluntary, nor are the amounts to be based on charitable whims. It is a commandment to automatically give a specific percent, making it an anti-hunger tax of sorts. In fact, both the Old and New Testaments make it clear that justice is a higher calling than mere charity.
In Mathew 25, not only does Christ proclaim that those who clothe, house, and feed the "least of these" are engaging in acts equivalent to directly aiding the Lord, he also preaches that those who refuse to aid the poor are consigned to damnation.
Most secular ethical traditions also make societal actions to reduce hunger, poverty, and homelessness a centerpiece of their teachings.
Virtually every elected official in Washington claims to abide by these ethical and faith-based traditions. Indeed, many have used their professions of faith to advance their political careers.
Yet many of these same leaders repeatedly take actions opposite to the values they espouse.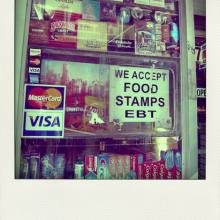 I've said before that privilege often is invisible until you don't have it. So in that light, I'm doing a little experiment in a few days with our family, and I encourage you to join in.
A lot of us never know what it's like to try and live below the poverty line, and I tend to think the statements we hear about the poor that lack sensitivity for their situation point to this. It's easy to say things like, "people on public assistance are lazy" (in fact, 47 percent of SNAP recipients are under 18; a majority of the remaining recipients have other income from work, and this doesn't account for seniors and those who are disabled) and that food stamps are a "free ride" that are so attractive, it keeps people from wanting to work and get off of the assistance.
So let's find out just how easy it is.
"SNAP" stands for "Supplemental Nutrition Assistance Program," which is the new name for food stamps. Basically, families receive $4 a day per family member to cover food costs, so the SNAP challenge is pretty simple (in theory, at least): Live on the same amount with your family for a week.