stumble
Reentry is often a pain in my ass.
It's true. I get a chance to get away from it all, to spend some time with friends and begin to unwind and it's glorious. But then there's the return trip home. It always takes longer. It's like slogging through Chicago slush. Painful. Unpleasant. So, after years of dealing with this side of my personality, I've tried to develop a habit of articulating the positives of leaving.
I rise on the wrong side of the bed the day after spending time in contemplation and wonderment. It happens. I apologize to Spouse and try not to step on any toes. Rev. Crankypants is in the house.
So, to undo the crankyness, I want to thank Brother Rob for his kind attentions over the last few days. I want to thank him for letting me use his name in such a scandalous way as I have. His coattails are long. It's astonishing how using his name in such a title can bring traffic to one's blog. It's a little embarrassing, really.
Rob is a good man trying to do some radical stuff. He has a ministry to those who understand the call to be fully awake and alive in this world as a radical posture.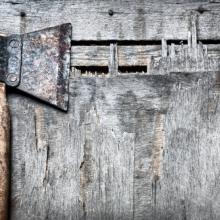 Were I one for object lessons I'd have brought a nice sharp axe with me into the pulpit today. Because it's only once in awhile that we get to hear Jesus talk about brutal self-mutilation as a sign of discipleship.
Growing up I was terrified of those verses in Mark's Gospel that we just heard – the ones where Jesus suggests that if your hand causes you to sin cut it off, and if your foot causes you to sin hack that off too, and if your eye causes you to sin gauge the sucker out. I remember the summer I was 11 years old when I stole candy from KMart and then hid it in the heat duct in my room. And I remember hearing this passage soon after that and thinking how my hand had indeed caused me to sin. And then and there I decided to never steal again lest Jesus insist I hack off my own limbs.
The problem, of course, is that my hand has never caused a darn thing. My eye doesn't cause me to sin. My foot can't be held accountable for my missteps. If you want to find the culprit behind my sin don't look at my hand. Look at my heart. My poor feet just do what they're told.