Stiefel Freethought Foundation
A new coalition of atheists, humanists and other nonreligious groups is taking a page from the gay rights movement and encouraging people to admit they are "openly secular."
The coalition — unprecedented in its scope — is broadening a trend of reaching out to religious people and religious groups by making the secular label a catchall for people who are not religious.
"We wanted to rise above who is an atheist, who is an agnostic, who is a humanist, who is a secular Jew," said Todd Stiefel, founder of the Stiefel Freethought Foundation and a main force behind the coalition. "This needed to be about something everyone could rally behind so we intentionally used the word secular because it was one thing we could all agree on."
The campaign, "Openly Secular: Opening Minds, Changing Hearts," was unveiled at the 65th annual gathering of the Religion Newswriters Association here on Sept. 20. It includes a website, resources for families, employers and clergy, and a YouTube channel featuring both prominent and rank-and-file nonbelievers announcing their names followed by the declaration, "I am openly secular."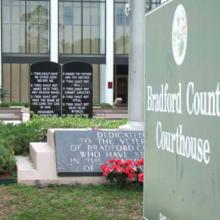 After years of fights over religious monuments on public land, a county courthouse in Northern Florida will soon be the home of the nation's first monument to atheism on public property.
On June 29, the group American Atheists will unveil a 1,500-pound granite bench engraved with secular-themed quotations from Thomas Jefferson, Benjamin Franklin, and its founder, Madalyn Murray O'Hair, among others, in front of the Bradford County Courthouse in Starke, Fla.
The New-Jersey-based group, which has a membership of about 4,000 atheists, humanists, and other non-believers, won the right to erect the monument in a settlement reached in March over a six-ton granite display of the Ten Commandments on the same property.