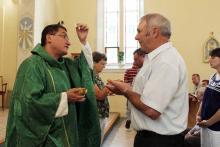 MARINE, Ill. — Joseph Haegele remembers going to the church across the road from his grandparents' house on Windmill Street in this farm town in 1956, when he was 5 years old.
Haegele has attended other Catholic churches in the area. But St. Elizabeth's remains special to the former General Chemical employee and his wife, Lynn. The annual church picnic has been part of family tradition for decades. And after their 25-year-old son died of a brain tumor 15 years ago, Haegele said, the couple adopted a priest's flower garden behind St. Elizabeth's rectory as a memorial.
But a Madison County Circuit Judge Duane Bailey has ruled that Haegele can worship at St. Elizabeth's only on the last weekend of each month. 
Legal experts say the judge's order illustrates the conflict between orders of protection and religious liberty. And prior cases have affirmed the rights of courts to issue restraining orders on individuals even if it affects their ability to attend a house of worship.
Bailey's order is extraordinary in that it imposes not only distances of separation, but specifically bars access to a church on particular days.