St. Clare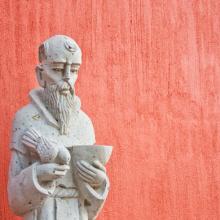 Today is the Feast Day of St. Francis of Assisi.
You likely have heard of him. Il Poverello. He's the 13th-century aescetic who founded a religious order.
It was, on one hand, a protest order...protesting how the Church had lost its way in relationship to money and helping the poor. It was on the other hand an opportunity for people to come together and do someting rather remarkable in caring for the poor by joining in solidarity with the poor.
The Friars Minor were formed in 1226. St. Clare of Assisi was co-founder. She has her own feast day, of course, but don't lose this opportunity to get to know her as well.
(There was also an incredibly trippy movie made about his life titled Brother Son, Sister Moon. Some day, when no one is watching, you should rent that film. Outrageously strange.)
Francis' prayer is well known, but today I want to offer up this quotation which is similar, but presents a different focus. Less a prayer and more a philosophical edict, these words moved me this morning:
"Where there is charity and wisdom, there is neither fear nor ignorance. Where there is patience and humility, there is neither anger nor vexation. Where there is poverty and joy, there is neither greed nor avarice. Where there is peace and meditation, there is neither anxiety nor doubt."