spiritual traditions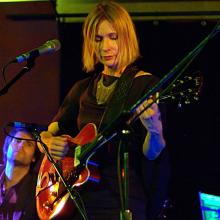 Sam Phillips is achingly honest.
Whether she's singing about relationships — with loved ones, the world or God — politics, art, the church, Aimee Semple McPherson or Christmastime, you can count on Sam to bring her singularly pure voice and the truth. She is true blue (and one of her favorite guitars is as red and shiny as RudolfOn her new album, Solid State: Songs from the Long Play, Sam has two songs that have quickly become new favorite Christmas tunes for me. One is explicitly about Christmas, and the other is not, but both speak eloquently (and truthfully) about the mystery and melancholy that the season brings to many of us.
In "It Doesn't Feel Like Christmas," Sam talks about missing someone special during the holidays. The lyrics are sad, her voice is sweet, and the juxtaposition of the two strikes a deep chord in my heart. True. Difficult. Beautiful.
With all the angst about the economy, the deficit, and a looming government shut-down, I'm still concerned that we're treating symptoms rather than diagnosing the underlying disease.
I know something about this. I spent a week in the hospital last year having loads of tests done -- blood work, heart scans, stress tests, and sonograms. I was discharged without a diagnosis, merely with hopes that by treating the symptoms, whatever was wrong would go away. It didn't. It turned out my real problem was a tick-born disease, and once it was diagnosed, a ten-dollar prescription of antibiotics cured me. Without that ten-dollar prescription to treat the real problem, I could have experienced life-long disability.