spiritual counselor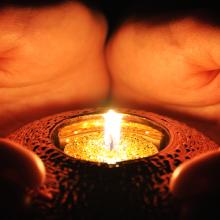 Author's Note: Meeting Sister Catherine during my years as a seminary student in North Carolina played a pivotal role deepening and expanding my spiritual formation, in my personal healing and in discerning key callings of my future vocation.
Sister Catherine is a Catholic nun in the Society of the Faith Companions of Jesus, an order in the spirit of Saint Ignatius, t in France in the mid-19th century under the auspices of Marie Madeleine Victoire de Bengy de Bonnault d'Houet (1781—1858).
I began Spiritual Direction sessions with Sister Catherine after the unforeseen death of my father and in the midst of a spiritual crisis.
What follows is taken from my book Reluctant Pilgrim: (A Moody Somewhat Self-Indulgent Introvert's Search for Spiritual Community) Copyright c 2010 Fr
esh Air Books. Used with permission. Upper Room Books
+++++++++++++++++++++++++++
I started seeing Sister Catherine once a week and within two months I felt as though I were going through a spiritual transformation, like I was being radically broken open and the thick outer shell I had maintained for so long was cracking and pieces were falling off one by one, slowly and painfully. And I learned the difference between a therapist and a spiritual director. She helped me think through my relationship with God and how different areas of my life affected or were seemingly affected
by my sense of spiritual self.
"I know this season of the liturgical year is called "Ordinary Time" because the weeks of Sunday are numbered but I like to think of it meaning plain and uneventful time more so than ordinal," I told Sister Catherine during one session.
"Why?" she asked.
"Because it kind of feels like a gift to me, to be trying to experience God in really simple ways during the church season of ordinary time when nothing exciting is happening like Easter or Christmas. I'm not going to church on Sundays very regularly but I feel like God is graciously revealing God's self to me through other people and becoming really alive for me in very incarnate mundane ways, not just in my own head and heart, or in my own silent prayers or weak devotional life."
++ Join us in showing our appreciation for Catholic women religious (aka nuns or "sisters") on Thank-a-Nun Day, May 9. Click HERE to send a thank-you note online. ++