songs of worship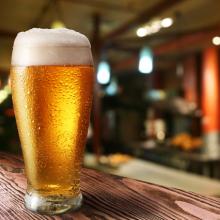 A few months ago, Stephen Marsh, my fellow pastor, and I walked into Chief's Tavern on the east side of Madison, Wis., ordered a couple pints, sat on a pair of stools and discussed an idea that would eventually have a massive impact on the congregation we serve together. In specifics, we wondered whether we could spark a ministry by fusing two of our most treasured Lutheran traditions: beers and hymns.
The budding idea, which originated from some creative faith communities in other parts of the country, was to find a local tavern willing to host a monthly one-hour session of hymn-inspired evening fellowship. Within a few minutes of our conversation, we were joined by Brian Mason (owner of Chief's Tavern), and what followed was a ground-breaking partnership between parish and pub. The first Beers & Hymns event was scheduled, and as the date drew closer, our collective thoughts and prayers moved back and forth between "Thanks be to God" and "Lord, have mercy"!
It was five days before the mid-term elections. The race to fill President Obama's senate seat was neck-and-neck. On one side, Alexi Giannoulias strongly supported comprehensive immigration reform and the DREAM Act.