solar system
Utility companies promote laws that seek to prevent rooftop solar systems.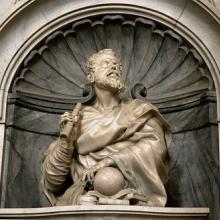 VATICAN CITY — Nearly four centuries after the Roman Catholic Church branded Galileo Galilei a heretic for positing that the sun was the center of the universe, the Vatican is co-hosting a major science exhibition in his hometown.
The Vatican is teaming with Italy's main physics research center to host "Stories from Another World. The Universe Inside and Outside of Us," in Pisa.
The exhibit will illustrate the progress of knowledge of the physical universe, from prehistoric times to recent discoveries. The exhibit is organized by the Specola Vaticana — the Vatican-supported observatory — and Italy's National Institute for Nuclear Physics, together with Pisa University's physics department.
The exhibition aims to tell "the history of the universe, from the particles which make up the atoms in our bodies to distant galaxies," the Rev. Jose Funes, director of the observatory, told reporters on Thursday (Feb. 2).