sodium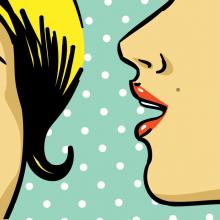 I am not shy about using the saltshaker, and neither I nor anyone else in my family has any sort of problem with blood pressure. That's because we mostly don't eat things that come out of packages or from fast-food places (where someone else takes them out of packages), and the salt that is a problem in the North American diet doesn't come from the saltshaker but from the extreme levels of sodium in packaged foods.
But you will never hear Michelle Obama say that.
There was a similar unutterability to everything having to do with AIDS back in the day. Even when scientists had a fairly clear understanding of the nature of the threat and how it was spread, most "official" speech tended toward a hedging: "we don't know what causes it; we don't want to say what's causing it …" Even today people don't get tested because they don't want to know, even though getting tested obviously doesn't give you the virus — it merely points out that it is there. It seems to point to so much more, though.