social norms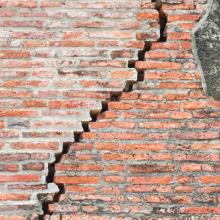 This past week I had an opportunity to teach an intensive course on the book of Matthew. I enjoy these opportunities, not only to teach, but to look at and present a book from start to finish. Although it is not possible to delve into every detail found within the book, following the plot line from start to finish helps to pick up on themes and recurring events and/or elements that accentuate and highlight certain points throughout the broader story. It is easy to miss such connections when snippets and bits and pieces are read rather than reading the whole story from beginning to end.
One such theme is how unsettling — literally — the person of Jesus was. Throughout Matthew's gospel we hear how Jesus shook the foundations of society.
When Harper was born we decorated the nursery in a Noah's Ark theme…images of Noah and of animals entering a large wooden boat two-by-two. It's a common enough decorating scheme for kids' rooms.
I mention it because this week at Bible study we discussed how weird it is that the beheading of John the Baptists isn't a common decorating scheme for kid's rooms.
Because this is just too gruesome a tale to show up on rolls of juvenile wall paper.
In case you missed the details, here's what happened:
So Herod is the ruler of the region, and while vacationing in Rome he gets the hots for his brother's wife who he then marries. John the Baptist, then suggests that maybe that's not ok.
Now, Herod likes John, as much as anybody can like a crazy bug-eating prophet who lives outdoors and speaks consistently inconvenient truths. Truths such as it's not ok to marry your brother's wife, which, incidentally, is the truth that when spoken, got him arrested to begin with.
It also got John on the bad side of Herod's new illegal wife Heroditas. She did not like John. Then when Herod throws himself a big birthday party his daughter-in-law Salome dances for him and all the other half-drunk generals and CEOs and celebrities who were there.
We don't know the exact nature of her dance but we do know that it "pleased" Herod enough that he offered to give her anything she wanted up to half of his kingdom. So, you know, I don't think it was the Chicken dance.