Snoop Lion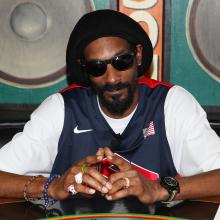 Back in in 1993, Snoop Dogg scored a huge hit with the hip-hop anthem "What's My Name?" Announcing his conversion to Rastafarianism on Monday, the rapper unveiled a new answer to that lyrical question.
"I want to bury Snoop Dogg and become Snoop Lion," he said at a press conference.
So, did the onetime gangsta rapper have to drop the "d-o-double-g" when he became a Rasta? Yes, and no, said Ennis Edmonds, a scholar at Kenyon College and an expert on Rastafarianism.
The religious movement doesn't require converts to change their names. But the faith was born in Jamaica, where calling someone a dog is deeply insulting, Edmonds said.
"Rastas would probably see calling yourself a dog as an indication of lack of self-knowledge," Edmonds said.