Skittles
Today the whole internet is talking about Donald Trump Jr.'s recent tweet comparing refugees to poisoned Skittles.
When I first saw the tweet, I was sickened by Trump Jr.'s — and by extension our country's — inability to see refugees as human beings in need of help. But I also was reminded of a similar tweet with a vastly different response two years ago.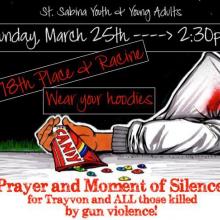 Christians and other people of good faith nationwide stood in solidarity with Trayvon Martin this weekend by wearing hooded sweartshirts — aka "hoodies"— to church.
Monday marks the one-month anniversary of Trayvon's slaying in Sanford, Florida at the hands of neighborhood "watchman" Gregory Zimmerman, who shot and killed the 17-year-old African-American boy in "self defense" for "looking suspicious" while dressed in a hooded sweatshirt.
Trayvon was unarmed, carrying only a package of Skittles, an iced tea and his cell phone.
Last week, people across the nation began wearing hoodies to work, school, and community marches in response to Trayvon's slaying and the injustice of the kind of racial profiling that it would appear directly led to it. On Sunday, many churches took that vision a step further as pastors and congregants donned hoodies and wore them to church for what some congregations called "Hoodie Sunday."